The Auto Press Made to Match Your Need for Speed

With precision multitasking built into
its very design, your ROQ ECO is the ultimate screen printing machine.  
The ECO's the faster index speeds, advanced control, the friendliest to operate, make it the upper echelon of the ROQ automated fleet.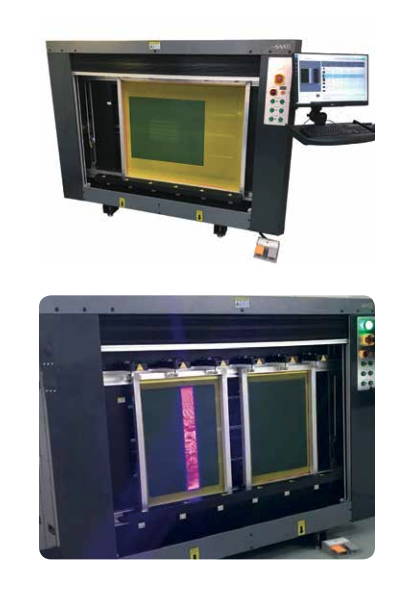 Independent lifting print heads also allow for faster print speeds for those more complex and more lucrative prints.

SAATI LASER TO SCREEN 8012 UNIT

Medium Format High Resolution Direct Laser Image & Exposure Unit
Self-contained, super high efficiency direct laser computer to screen Image & Exposure unit, operated by PC with optional RIP. Designed to efficiently image and expose one screen up to 45" x 66" or two screens up to a maximum size 25" x 36" without vacuum or film positives
---
FEATURES/BENEFITS 

• Very high resolution CtS exposure capable of reproducing the most demanding image types
•Double screen output by imaging & exposing two screens at once
• Digitally process all types of PC & Mac design files in house with no film positives and the powerful workflow software allows multiple image placements across one or two screens to further enhance productivity

• No consumables and low power consumption for minimized costs

• 10,000+ hour lamp life and easy, low cost maintenance


SPECIFICATIONS

• Maximum Image Size: 31" x 47"" • Maximum Frame Size: 45" x 66" • Overall Dimensions: 87" x 25" x 65" • Weight: 1,790 lbs. • Compatible with 110V or 220V input • Requires compressed air for clamps (90 psi, less than 1 CFM) • Two Year Warranty
The ROQ ECO is the smooth operator's smooth operator.

Dedicated buttons to automate clamps.

Off-the-charts speeds 10-15% faster than the ROQ NEXT & 25-30% faster than the ROQ YOU blast your production rates into dizzying hyperdrive.

Engage the ECO's FLY mode, and you've opened a screen printing wormhole enabling you to accelerate even more under certain conditions up to a blurring 2,200 indexes per hour.
Expand your production without expanding your effort.

The dual chain drive on the ECO makes the fastest printing and indexing press in the ROQ line at lightning speeds over 1,600/hr.

Independent print head control, along with operator assist means the press is not only easy to set up for all operators, but can quickly accept special effects attachments like FLOCK and FOIL.


With Cadillac luxury and features, this is the ROQ NEXT's next level.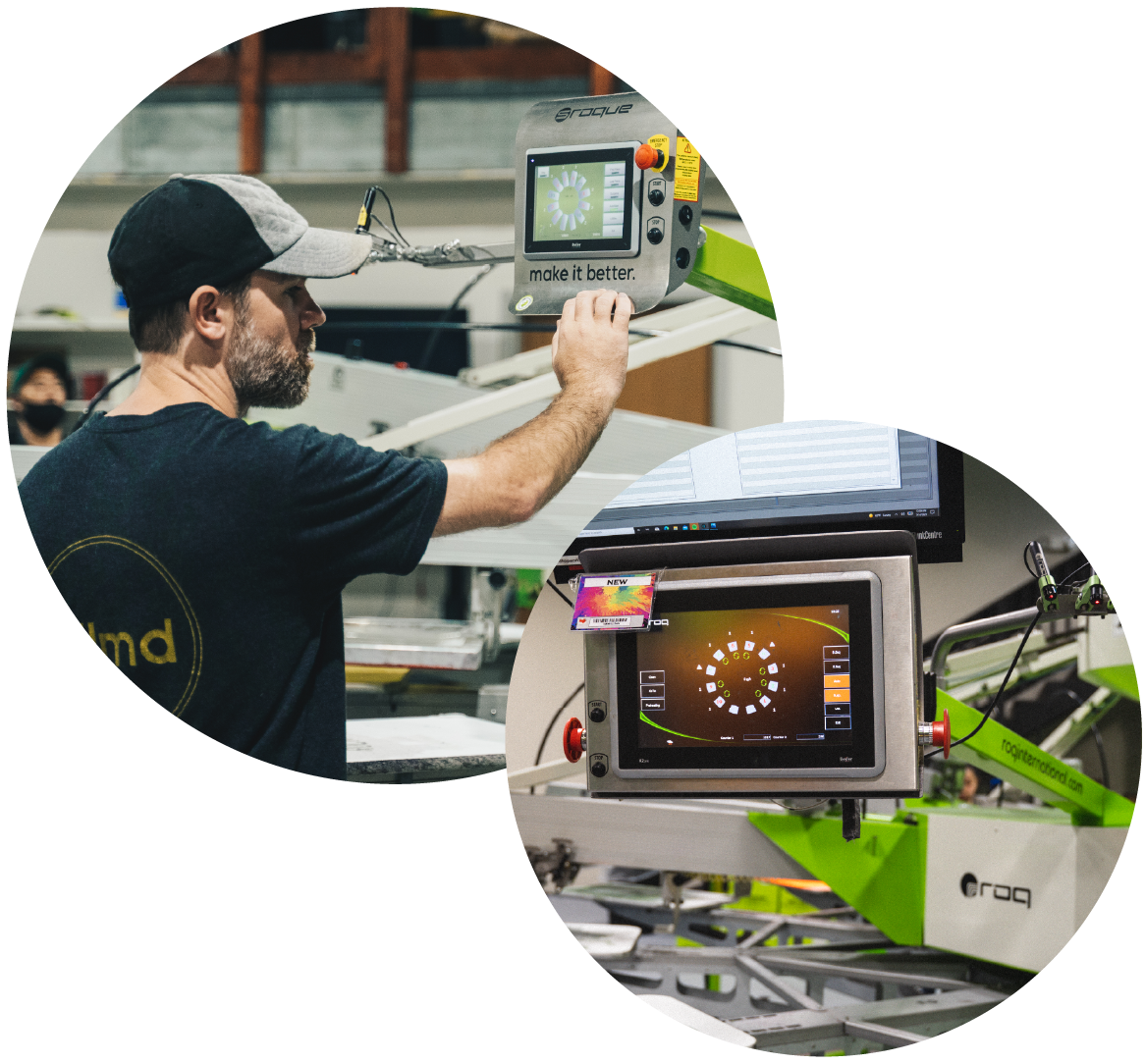 Informative state-of-the-art LCD screens on each individual print head eliminates all the guesswork from your workflow.
The ECO's the faster index speeds, advanced control, the friendliest to operate, make it the upper echelon of the ROQ automated fleet. Head lift assists present a tremendous advantage for your Operator, especially for those of us with smaller frames who often run larger shops.
The advanced screen and head controls, combined with the fastest index and independent lifting heads, make the ECO the fastest ROQ press to set up for maximum efficiency.  
Index speed is not just how fast your press print, but how fast your press moves from station to station. Exponentially increase your productivity without any additional work from your press Operator(s).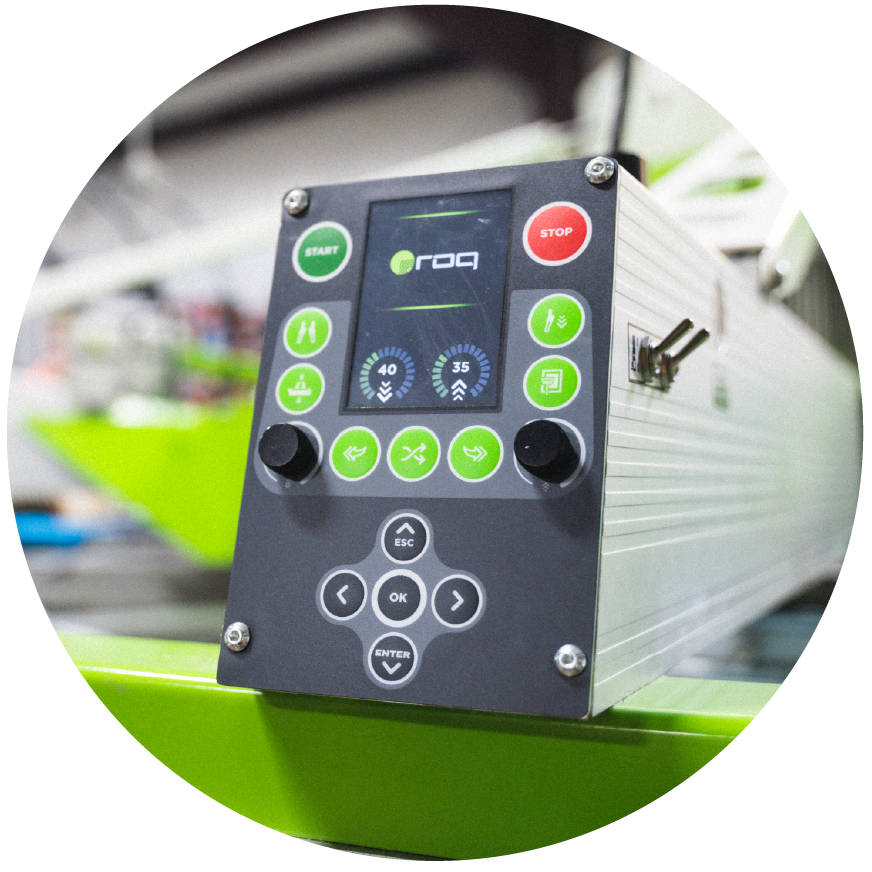 Micro registration at its finest, delivered in real time, has never been easier.

Further, part of what makes it a super fast press is its ability to change and move accessories on any print head, which expedites the process between jobs.

"Go-To Platen" functionality comes to play here, making setups significantly quicker, offering you the fastest setups and turn downs in the industry.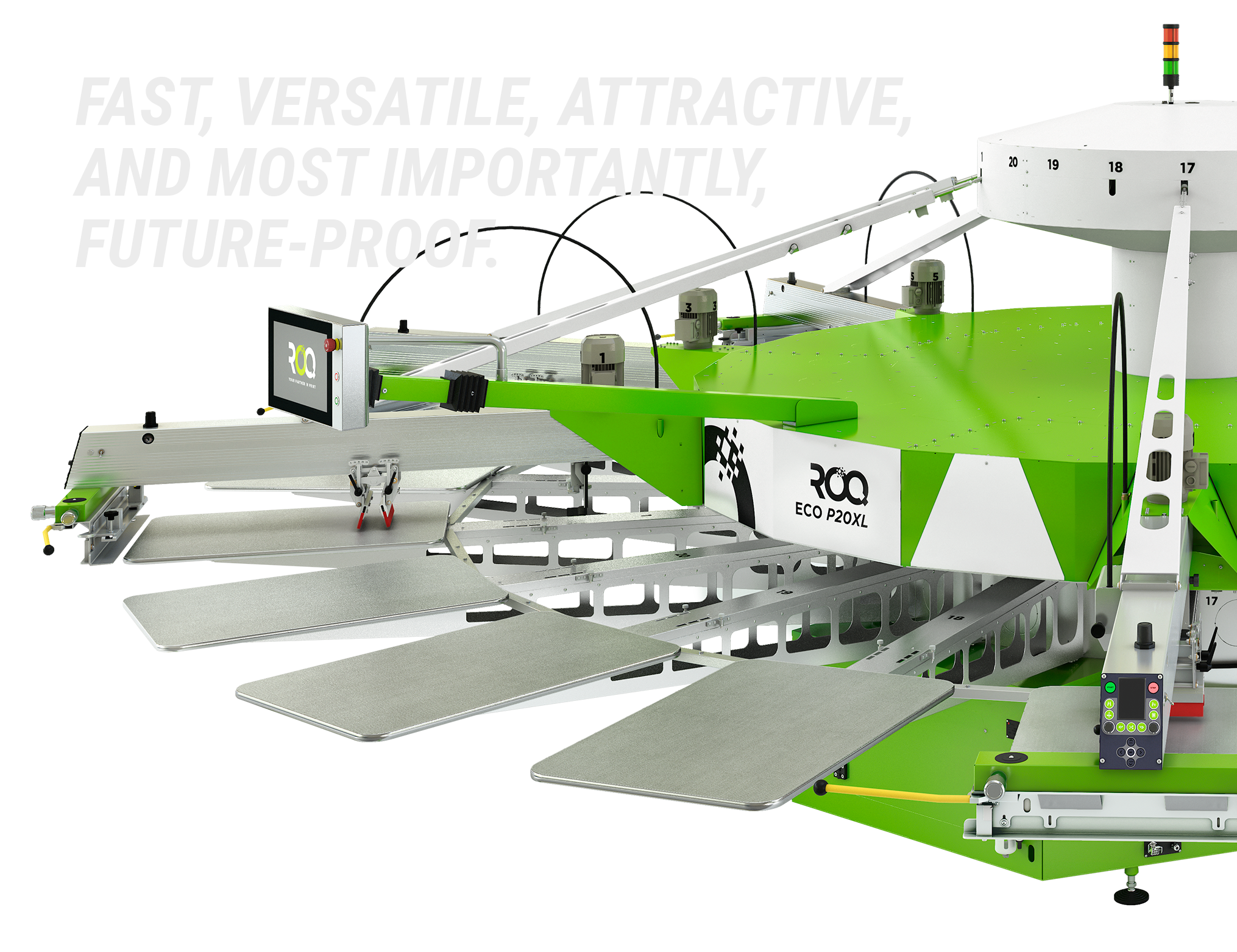 Available from an 8 to 20 color format, the ROQ ECO Automatic Screen Printing Press utilizes the best-performing innovative technology in the market.
With consistent high production speeds, a durable chassis for the longest production life, and integrated special effects features such as automatic FLOCK and FOIL, as well as being fully compatible with the ROQ HYBRID digital systems, you'll have a severely trying time attempting to find out if there's anything it can't handle. ROQ on!